DIAMOND ARROW AWARD  RECIEVED BY HALFWAY HINO SHELLY BEACH IN 2017, 2018, 2019 AND 2021
NATIONAL DEALER AWARDS 2021
AND THE DEALER OF THE YEAR 2021 AWARD GOES TO...
HINO SHELLY BEACH
Not once, not twice, but three times, Halfway Hino Shelly Beach won Dealer of the Year (2021) in the past 5 years!
An achievement not many can boast about…..
Hino Shelly Beach won the Hino Dealer of the Year award for the first time in 2017 and has since won this prestigious title again in 2018 and now in 2021. Hino Shelly Beach is under the leadership of Mr Gansen Chetty, who joined this dealership in March 2014. Hino Shelly Beach forms part of the Halfway Group which was founded in 1965 by Mr. JG Baikie Snr and is currently managed by Mr. George Baikie Jnr.
To make Hino Shelly Beach stand out above the rest Gansen Chetty believes that you need to have excellent relationships with all your customers and suppliers. You also need a loyal and dedicated team to ensure that your dealership will stand out above the rest.
Our team is all about customer satisfaction, we pride ourselves in going that extra mile by ensuring that we exceed our customer's expectations. At Hino Shelly Beach we strive to do whatever it takes to get our customers back on the road as quickly as possible while ensuring service excellence at all times.
Customer's and employees are the Key Reason a dealership is so successful. We look forward to another year full of hard work and determination and ever so ready to achieve much more in the Years to come.
National Service Dealer of the Year 2020
This prestigious service award was awarded to Sachin Muniasiah during the annual dealer awards.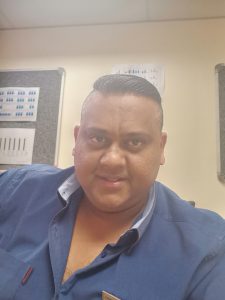 Sachin said:
"I am very proud of this achievement especially taking into consideration that the country was in the worst pandemic recorded. We still managed to uplift our service responsibilities and also made sure our customers were retained and we exceeded their expectations. I would like to thank the whole team on this achievement, well done to all of you!"
Hino Parts Marketing 2020
This award was awarded to Trevor Mohan during the annual dealer awards.
Trevor said:
"I am very proud of this achievement and would like to thank my whole team for putting in all the extra efforts. Even though last year was a very tough year for the whole country, we still managed to retain all our customers and exceed their expectations."
Ruby award and Hino Knights of the year 2019 and 2020
Vinny Naidoo said:
"I am immensely grateful for this award. Even my self-belief will be improved by this award and help me to attain success in the future. It is difficult for me to express my gratefulness for having all the support, time effort put in by the Hino Shelly Beach Team in these difficult times. To be selected for this honour of Knight of the Year twice in a row, is a great privilege. I do my utmost best to represent the company in a positive way. I still have much to learn but with continued support and encouragement from colleagues and customers I know I can accomplish a great deal. I plan to do all I can to preserve our positive working environment and helping the company and our community prosper.
Without the Hino Shelly Beach and Halfway group none of this would have been possible.
To Gansen Chetty and the Hino Shelly Team. I thank you."